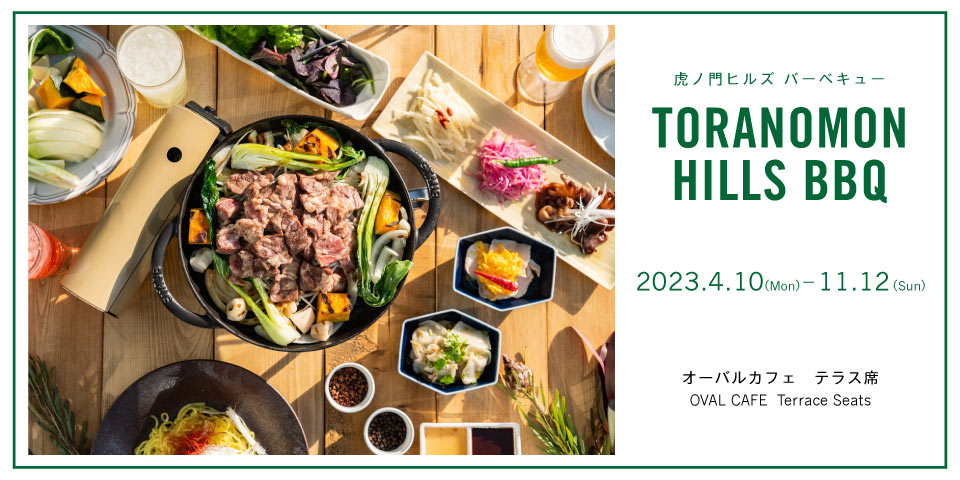 toranomon hills bbq
Toranomon Hills BBQ 2023
This year's creative modern Chinese BBQ uses plenty of seasonings from various Asian countries.
In addition to the popular Genghis Khan course, we also offer a premium course where you can enjoy seafood and T-bone steak, continuing from last year.
Spend a pleasant time on the open city terrace with a refreshing breeze.
2023年4月10日(月)~ 2023年11月12日(日)

飲み放題なし¥3,400~、2時間の飲み放題付¥5,200~
※価格は税込みです。
※2名様より予約受付(前日までの要予約)。
※土日祝のランチタイム(11:00~14:30)は、金額・内容が異なります。
※写真はイメージです。
<冷菜>
蒸し鶏と玉子の花椒和え
冷製水餃子
3種の中華風ナムル<BBQ盛り合わせ>
野菜盛り合わせ<麺>
ウーシャン炸醤麺<デザート>
本日のアイス<メイン>下記4コースよりお選びいただけます。
※料金は【飲み放題なし/飲み放題付】の表記。
■PORKコース:¥3,400(税込)/¥5,200(税込)
豚肩ロース&ヒレ肉
■PORK&SEAFOODコース:¥3,900(税込)/¥5,700(税込)
豚肩ロース&海老・帆立
土日限定ランチ:
各コース¥900引きでご提供いたします。<冷菜>
蒸し鶏と玉子の花椒和え
冷製水餃子
3種の中華風ナムル<BBQ盛り合わせ>
野菜盛り合わせ<メイン>
LAMB・BEEF・PORK・PORK&SEAFOOD・PREMIUM
※いずれかお選びいただけます。