TORANOMON FLOWER MART 2020 AUTUMN
2020年11月7日(土)、8日(日)
虎ノ門フラワーマート2020 AUTUMN
個性豊かなフローリストらが集うお花のマーケット。虎ノ門ヒルズに旬の草花が集う「TORANOMON FLOWER MART 2020 AUTUMN」を開催しました。
今回は安心・安全にお楽しみいただける様、感染予防対策を徹底し、多くの方にお越しいただきました。
フラワースタイリストの平井かずみさん監修のもと、個性豊かなフローリストや食の作り手たちによる話題の約 20店が集結。オーバル広場のオープンな空間では、手ごねハーブ石けんづくりや観葉植物の植え込みを体験できるワークショップなどが充実しました。また、自宅で過ごす時間が増えた今年、栽培する人が増えたことで人気急上昇中の鉢植えや、ハーブのポット苗の即売会を初開催。
さらに、同時期に開催した「虎ノ門ヒルズヨガ」とコラボレーションした「虎ノ門ヒルズヨガ FLOWER MART EDITION」も開催しました。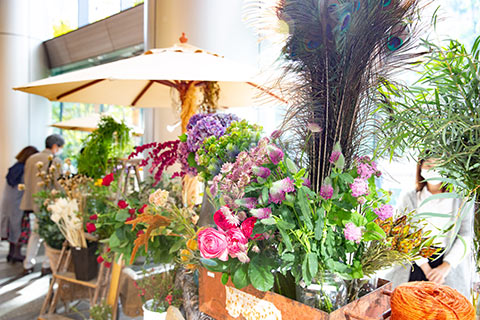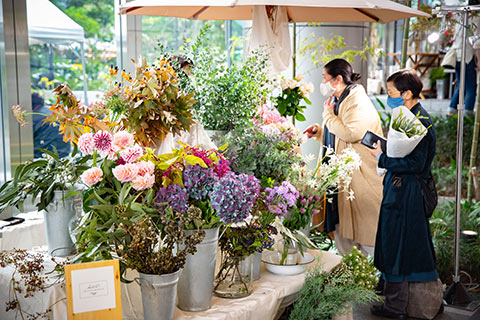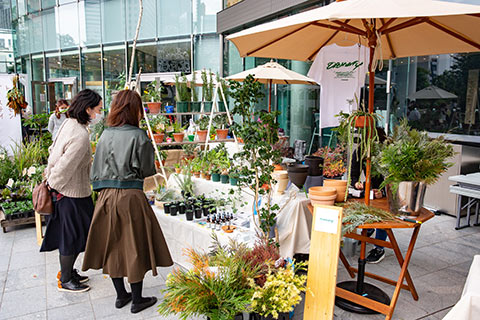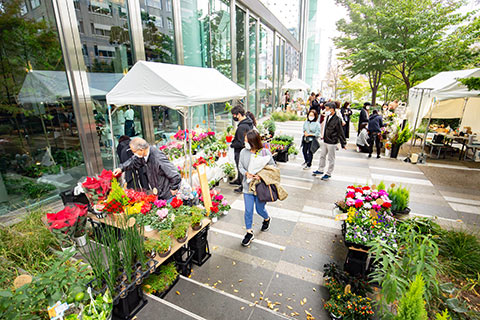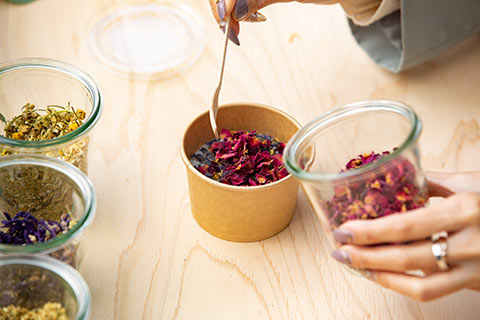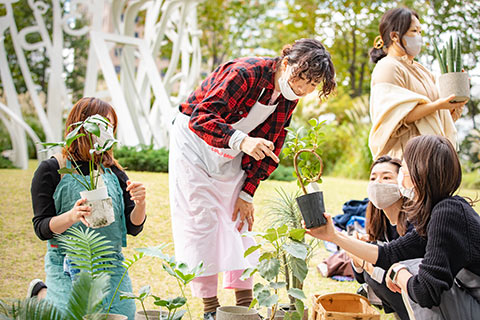 TORANOMON FLOWER MART 2019 AUTUMN
TORANOMON BOOK PARADISE 2019 AUTUMN
Friday, November 1, 2019, Saturday, November 2nd, 2019
Toranomon Flower Mart 2019 AUTUMN
Toranomon Book Paradise 2019 AUTUMN
On the same day, we held "Toranomon Flower mart" where seasonal flowers gather and "Toranomon Book Paradise", a dream market for book lovers.
From flowers, there are booths of a wide variety of genres such as flower shops and miscellaneous goods and food that are full of personality, from books, new bookstores to old bookstores, popular publishers and shops that handle goods for reading gathered together, and so far It has become a special and lively two days.
OUR PARKS TORANOMON FLOWER MART 2019 SPRING
Friday, April 19, 2019, Saturday, April 20
Toranomon Flower Mart 2019 SPRING
A flower market where unique florists gather. We held "TORANOMON FLOWER MART 2019 SPRING" where Toranomon Hills gathers seasonal flowers.
Under the supervision of flower stylist Kazumi Hirai, flower shops and food makers gathered together, and there were also workshops where professionals could learn how to choose flowers and how to decorate them.
Since it was held on weekdays, people who returned from work could feel free to drop by.
TORANOMON FLOWER MART 2018 Xmas Edition
Thursday, November 22, 2018, Friday, November 23, 2018
Toranomon Flower Mart 2018 Christmas Edition "Thank You Always"
Hold a winter flower market where you can find items that are perfect for Christmas. Under the theme of "Thank You Always", we have proposed a flower gift that will send gratitude to loved ones. This time, which started on weekdays for the first time, there are many unique flower shops and grocery stores, including the "ikanika" shop by Kazumi Hirai, a flower stylist who supervises this market. We also held a merchandise sale unique to the Christmas season, a flower and book talk show that invited Mr. Noriyuki Morioka of Morioka Shoten, and a succulent workshop.

Planning: BAGN Inc. / Kazumi Hirai
Opened by: ikanika / TOKIIRO / Sakura Florist / les mille feuilles de liberte / Hairoiro Wolf + Hanaya Nishibeppu store / hanauta # / blanc / socuka / GOOD NEIGHBORS 'FINE FOODS / Tiny N / Two months / Uguisu and rain / cotito / TIES + LAND / HISAKO MAEDA
TORANOMON FLOWER MART SPRING 2018
Saturday, April 21, 2018, 22nd Sunday
虎ノ門フラワーマート 春 2018
The 5th "Toranomon Flower Mart" was held. Even after this two-day sunny day, the flower stylist Kazumi Hirai, who supervises this market, also created "ikanika" and "ŒUVRE," a custom-made arrangement and seasonal flower arrangement. (Uvre) "and other limited shops and workshops were held by popular florists who normally do not have shops. In addition, as the first initiative, with the cooperation of "Ota Hanaki Co., Ltd.", which operates the largest flower wholesale market in Japan, we invited selected producers to collaborate with some shops. We have created a place where we can interact with our customers, and we have delivered live voices directly from the farm, such as how to grow flowers, their characteristics, and production background.

Planning: BAGN Inc. / Kazumi Hirai
Opened by: ŒUVRE / Tiny N / Sakura florist / les mille feuilles de liberte / ikanika / Hairoiro wolf + Hanaya Nishibeppu store / hanauta # / VEIN + fiore soffitta / Hana Tutumi / GOOD NEIGHBORS 'FINE FOODS / cotito / duft / HISAKO MAEDA / Forager / blanc / socuka / Uuisu and rain / TIES
TORANOMON FLOWER MART 2017 Xmas HOLIDAY EDITION
November 25th (Sat) and 26th (Sun) 2017
Toranomon Flower Mart 2017 Christmas Holiday Edition
The 4th "Toranomon Flower Mart" lined up with flowers and plants proposed by a flower shop full of individuality, Christmas wreaths and swags that were not seen in the usual Flower Mart, ahead of the Christmas season.
Under the theme of being able to meet various things and things related to flowers, we also held a workshop for Christmas-only sweets and gifts.

Planning: BAGN INC. / Kazumi Hirai
Opened by: Uguisu and Grain Rain / VEIN / o-kitchen / GOOD NEIGHBORS 'FINE FOODS / cotito / Sakura Florist / fiore soffitta / socuka / Tiny N / TIES / duft / Hairoiro Wolf + Hanaya Nishibeppu Shoten / hanauta # / Hana Tutumi / blanc / Two Moons / molocoe / les mille feuilles de liberte
TORANOMON FLOWER MART 2017 SPRING
Saturday, April 8th, 2017 (Sunday)
Toranomon Flower Mart 2017 Spring
A new type of flower market to be held in the atrium, which is lined with commercial stores that give the appearance of Toranomon Hills.
This is the third time, and from the flower shop that opened in Tokyo to the popular florist shop and independent topic shops, popular shops with unique personality that do not usually exist are gathered together, and the number of stores has reached a record high. It was. In addition to selling spring flowers and flower motif miscellaneous goods, books, food, etc., we also held a talk event with flower stylist Kazumi Hirai and popular florists who supervised.

Planning: BAGN INC. / Kazumi Hirai
Opened by: ANONYME/ikanika/Uguisu to Grain/ŒUVRE/VEIN/GOOD NEIGHBORS' FINE FOODS/Sakura florist/duft/TOKIIRO/Haiiro Wolf + Hanayabeppu/hanauta#/piika/ Forager/poppy seeds/Marufuku Farm /les mille feuilles de liberte