Gourmet
Takeout menu at 53 selectable stores
Toranomon Hills restaurant menu at your office or at home!
Toranomon Hills Mori Tower, Toranomon Hills Business Tower, and Toranomon Yokocho's restaurants and cafes offer a variety of takeaway menus that enhance your daily lunchtime. There are many other menus besides the ones listed here, so please check it out.
*

Please refer to each store for business hours as it is a shortened business.
*

Please note that the take-out menu of each store will differ depending on the store, so please contact each store for details.

*

All prices include tax.

*

Contents are subject to change without notice. Please note.
Toranomon Hills Mori Tower
Toranomon Hills Business Tower
Toranomon Yokocho (Toranomon Hills Business Tower 3F)
Andaz Tokyo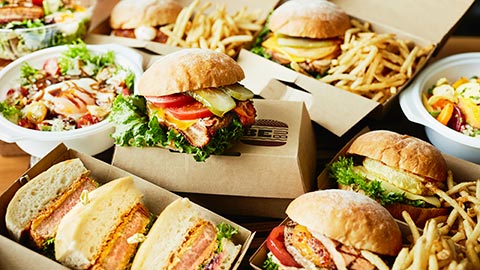 グリルビーフバーガー5種(フライドポテト付)
各¥1,600
11:30~15:00/18:00~20:00
※30分ごとにご希望の時間をお選びいただけます。
Toranomon Hills Mori Tower 1F
※

ピックアップの60分以上前にご連絡ください。

※

1回のご注文につき5品までとさせていただきます。5点以上のご注文をご希望の場合、レストラン予約( 03-6830-7739 )までお問合せください。