International Shintoshin・
Forming a global business center
In Toranomon Hills area, following "Toranomon Hills Mori Tower" (completed in 2014), "Toranomon Hills Business Tower" (completed in 2020), "Toranomon Hills Residential Tower" (completed in January 2022), Tokyo Metro Hibiya Line " "Toranomon Hills Station Tower", which will be developed together with Toranomon Hills Station, will open in the fall of 2023.
When all of these are completed, Toranomon Hills will have an area of 7.5 ha and a total floor area of 800,000 m². It will be completed as an impactful "International New Urban Center / Global Business Center".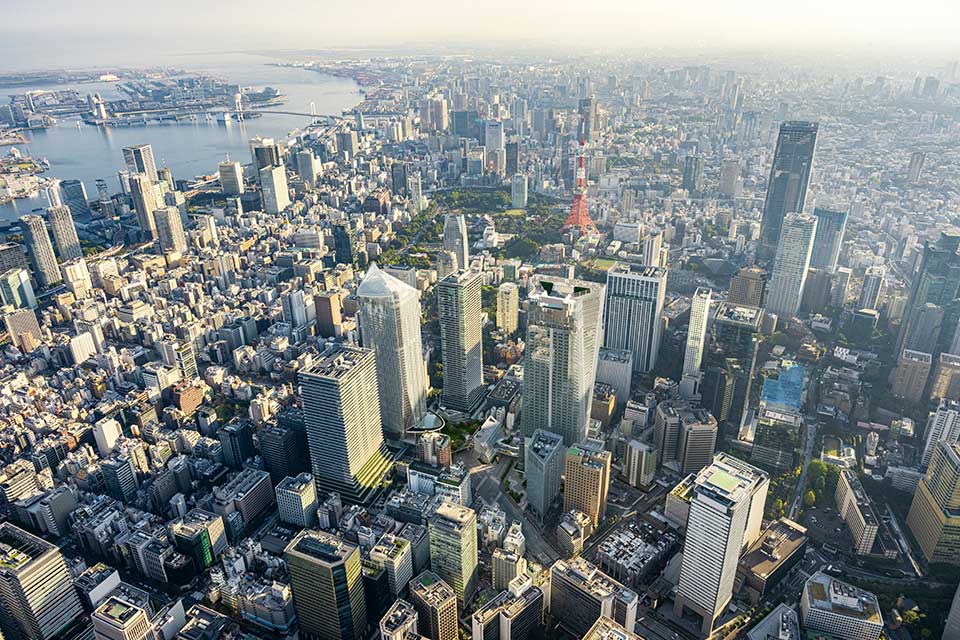 In the surrounding area, large-scale redevelopment projects such as "The Okura Tokyo", "Toranomon Hospital" and "Tokyo World Gate" have been newly completed. Following the second circular line that runs through the basement of "Mori Tower", including transportation infrastructure such as "Toranomon Hills Station" and Tokyo BRT, housing, hotels, commercial facilities, medical facilities suitable for the international new city center and global business center Various urban functions are being developed.
Further strengthening the transportation node function as a "new gateway that connects the world and central Tokyo"
On the 1st floor of the "Business Toranomon Hills", there is a approx. A large-scale bus terminal of 1,000 m2 has been developed.
In addition, at the "Station Tower", which will be developed integrally with "Toranomon Hills" station on the Hibiya Line, the first new station in 56 years, in addition to creating an open subway station square, Sakurada-dori (National Route 1 ), a large-scale pedestrian deck with a width of 20 m will be installed, connecting to Oval Plaza of "Mori Tower".
Through a step-by-step and integrated urban development, the transportation of "Toranomon Hills" as "a new gateway that connects the world and the center of Tokyo" by strengthening and expanding the multi-layered transportation network on the ground, underground, and deck levels. The nodule function will be greatly strengthened.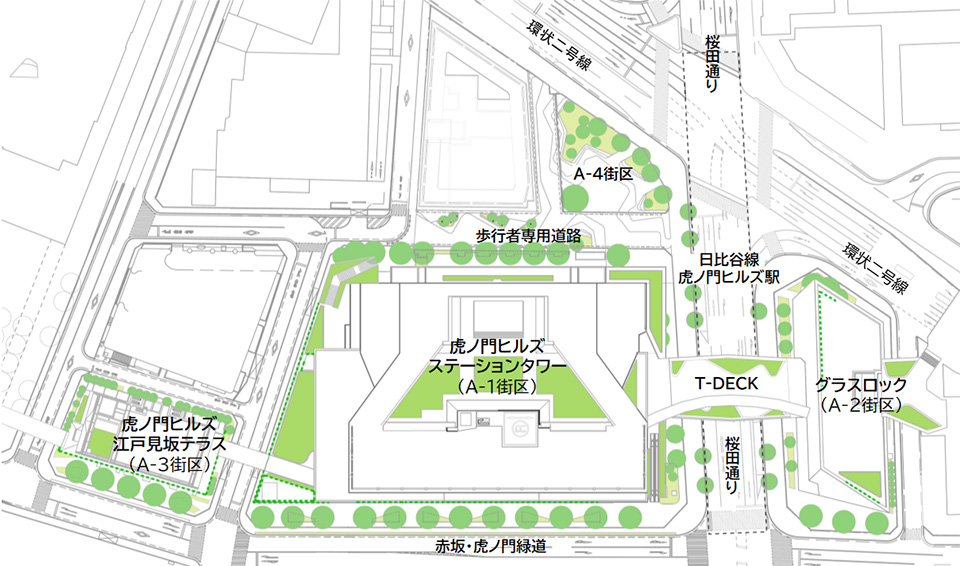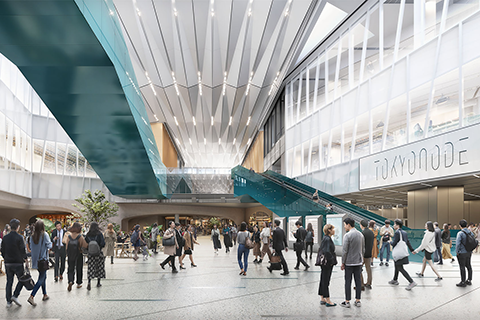 Subway station square "Station Atrium"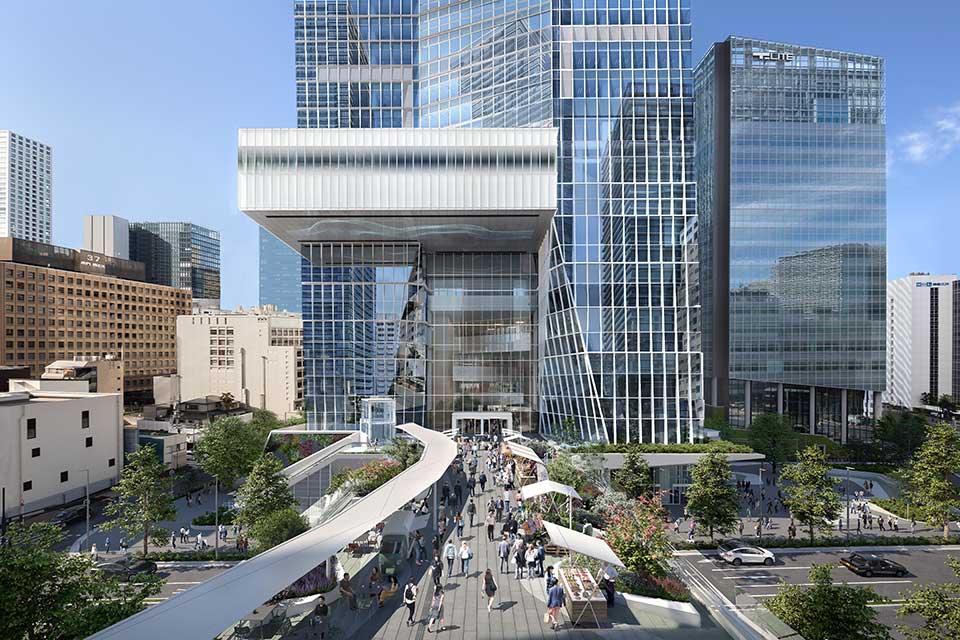 Pedestrian deck "T-deck (nickname)"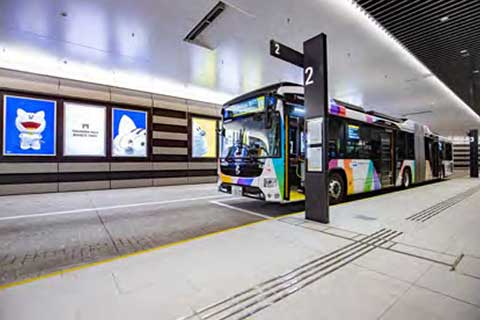 Bus terminal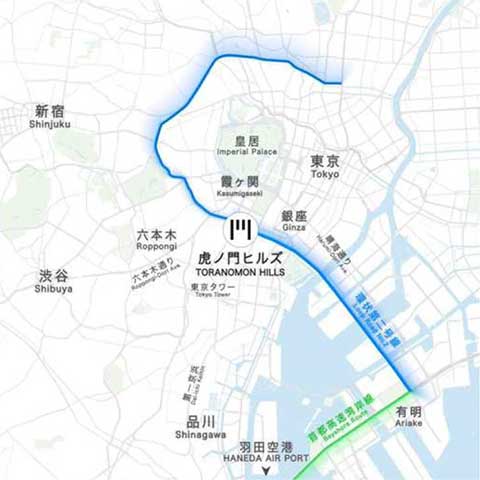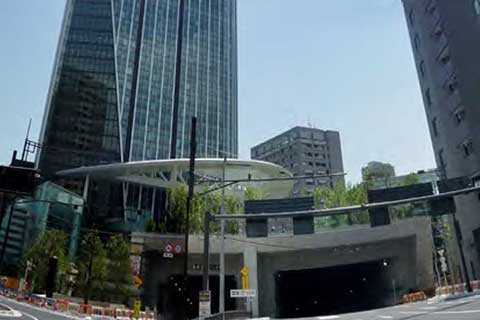 Circular Route 2 Tsukiji Toranomon Tunnel Exit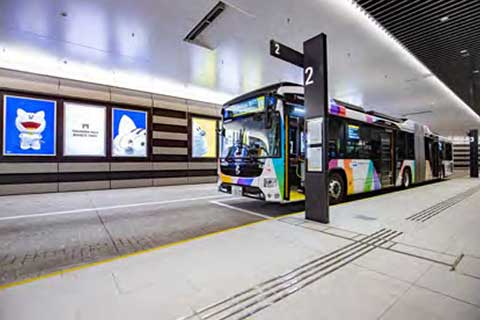 Bus terminal where Tokyo BRT arrives and departs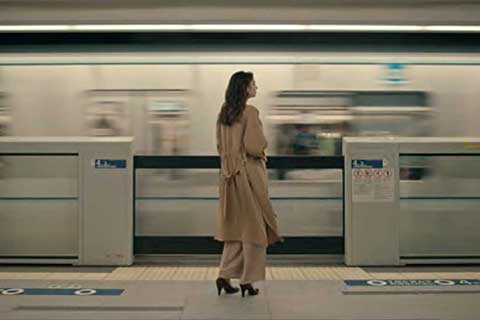 New station "Toranomon Hills" station for the first time in 56 years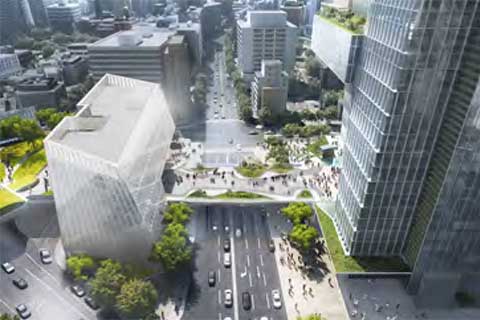 20m wide pedestrian deck
Toranomon Hills Facility Overview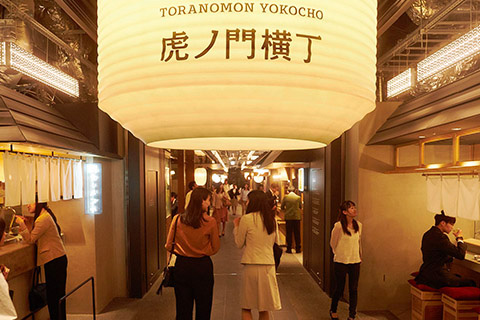 "Toranomon Yokocho" reservation site has been released.
Toranomon Yokocho
"Toranomon Yokocho" is a collection of 26 famous and popular stores in Tokyo, which had not been opened in many stores until now. You can enjoy the gem menu of various shops as you can order a la carte even at shops that only offer courses at the main shop. In addition to cooking, you can also pair the taste of your favorite shop with your favorite sake in a craft gin distillery made from the famous water of island shochu and ome in Tokyo, or BYO (Bring Your Own) style if you buy wine. There is also a "HAND PICKING WINE" that you can enjoy. In addition, "Toranomon Yokocho POPUP Restaurant" supervised by Mr. Mackey Makimoto, who was in charge of the store selection of "Toranomon Yokocho", will be a hot topic store for a limited time.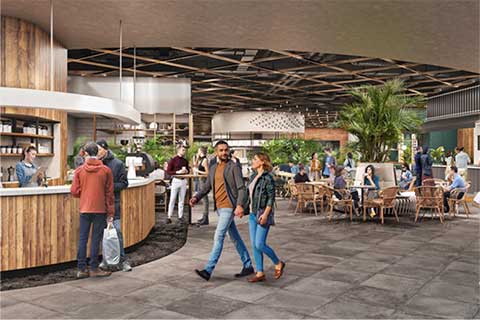 Food Hall "T-Market"
(Opening in fall 2023)
Directly connected to the station square "Station Atrium" in front of the subway station, the food hall "T-Market" (approx. Creates excitement and vitality. There will be a collection of chefs and pastry chefs who are highly rated by Michelin and Bib Gourmand, as well as an attractive line-up of craft beer breweries, bars, miscellaneous goods, and flower shops. Not only eating and drinking, but also holding cultural events that fuse with art and music, we will provide a new food experience and a new way to enjoy the food hall that boasts high quality at a reasonable price.
Toranomon Hills Commercial Facility
In the commercial area from the 1st to 4th floors of Toranomon Hills Mori Tower, with the concept of "Communication Hub", there are restaurants where you can enjoy cuisine from all over the world that meet the needs of customers in Japan and overseas, and service stores that support office workers. placed.
Toranomon Hills Business Tower B1 to 3F will provide a commercial space with a total of 58 stores (approximately 7,600m²) that supports the clothing, food and housing of global players, from food and drink to product sales and services.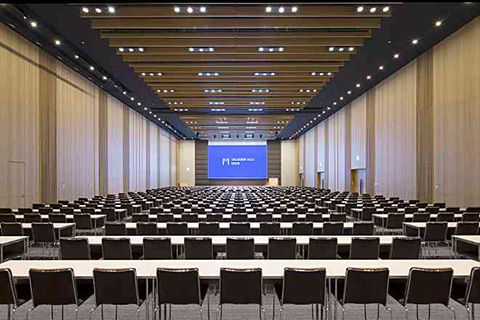 Toranomon Hills Forum
It is the largest conference facility in the area, with approximately 2,000 people in three halls. It is composed of three pillar-less, separable halls and a meeting room, and is an ideal space for holding various events such as international conferences and symposiums. It is easily accessible from Haneda Airport and aims to be a new hub for international exchange and information dissemination as a hub connecting Tokyo and the world.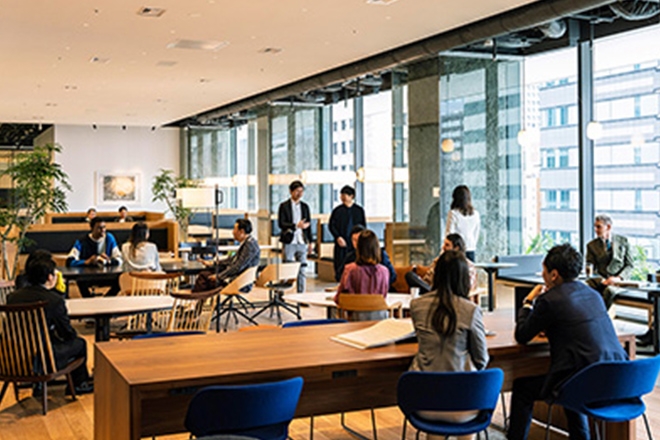 ARCH Toranomon Hills
Incubation center
On the 4th floor of the Business Tower, a large-scale membership-based incubation center of about 3,800 m², called "ARCH", has been created, which is one of the important components of the "Global Business Center". In the facility, we will set up a meeting room, a cowork space, a school room, etc., and in the planning and operation of the facility, based in the US Silicon Valley, we will conduct venture investment and fostering business as well as support business creation of large companies. WiL" is participating. Experts with a track record of creating new businesses of large companies will provide strong support by providing various know-how, services, educational programs, awareness events, etc. necessary for creating new businesses while promoting communication between members. I will.
This facility aims to become a base for Japan's unique innovation ecosystem by supporting business reforms and new business creation within large companies that have abundant resources such as people, goods, money, and information.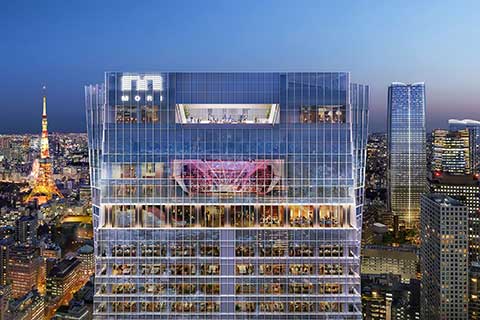 TOKYO NODE (opening in autumn 2023)
Towards a city that sends messages to the world.
TOKYO NODE, an information dissemination base.
TOKYO NODE will be built on a scale of 10,000 square meters in the upper part of the station tower as the cornerstone of the global business center. It is a completely new information dissemination base that combines event halls, galleries, restaurants, rooftop gardens, etc. It will be a stage where you can send out messages to the world beyond the boundaries of business, art, technology, entertainment, etc.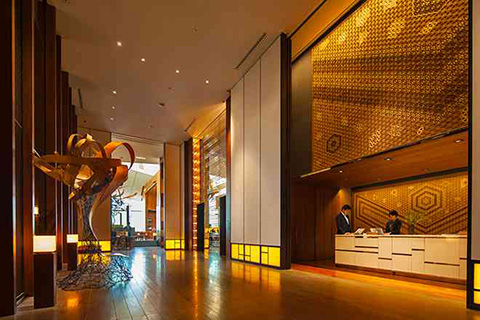 Luxury Lifestyle Hotel
"Andaz Tokyo"
Hyatt's luxury lifestyle hotel Anders Tokyo, which means "personal style" in Hindi, incorporates the individuality and charm of the region to provide a comfortable yet stimulating stay. Located in the heart of Tokyo for leisure and business, each guest will enjoy a cozy and quality time in their own style, while enjoying a beautiful panoramic view from Andaz Tokyo.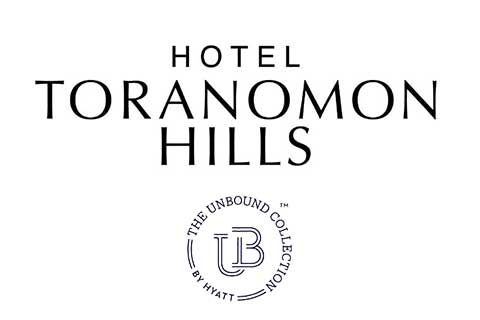 New hotel welcoming guests from all over the world
"Hotel Toranomon Hills" (opening in fall 2023)
"Hotel Toranomon Hills" will be born as a new option for the stay of global players. The concept is a hotel that works with the functions of the city. In addition to 205 guest rooms, it has a restaurant, cafe and lounge open to the city. The first "Unbound Collection by Hyatt" brand in Tokyo. Designed by Space Copenhagen.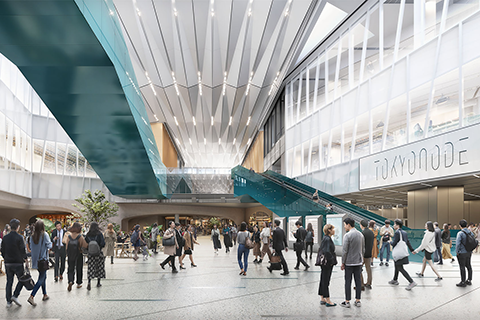 Subway station square "Station Atrium"
(Opening in fall 2023)
Through integrated development of the station and town
New subway station plaza
The station-front plaza "Station Atrium", which was created through the integrated development of Tokyo Metro Hibiya Line's "Toranomon Hills" station and the town, is an all-weather type with natural light pouring in, so bright and open that you will forget you are underground. We will realize a vast and rich space that has never existed in Japanese subway stations.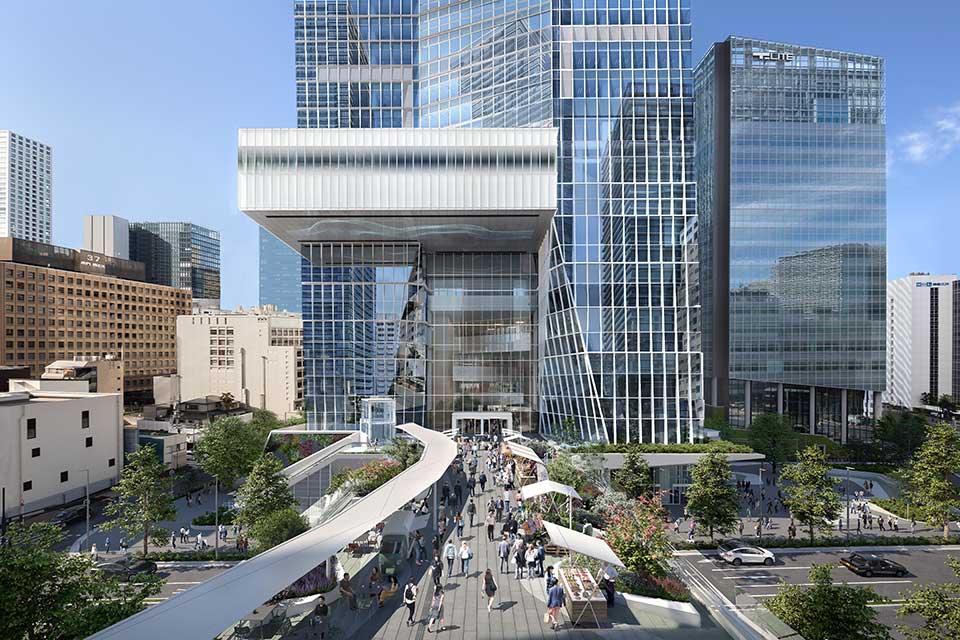 Pedestrian deck "T-DECK (nickname)"
(Opening in autumn 2023)
It will be the cornerstone that connects cities and connects people.
A pedestrian deck of unprecedented scale.
A large-scale deck with a width of 20m will be built on Sakurada Street to connect the Mori Tower and the Station Tower. As a result, a comfortable pedestrian network has been realized without dividing the city. This "T-DECK" will be the main street of Toranomon Hills, and it will also be a place to connect people as "another square" in cooperation with Oval Plaza.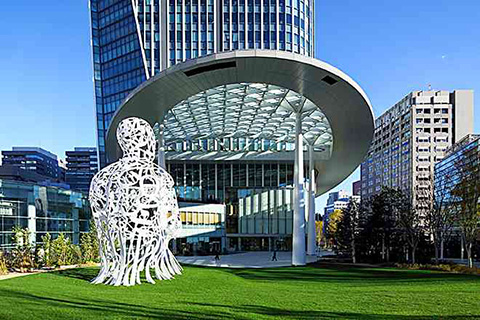 Oval Plaza
It is an open space with a large lawn. "Toranomon Hills Mori Tower", which utilizes the "three-dimensional road system" that allows buildings to be constructed above and below the road, has a loop road No. We have created a space where visitors, including local residents and office workers, can take a leisurely walk and enjoy the greenery.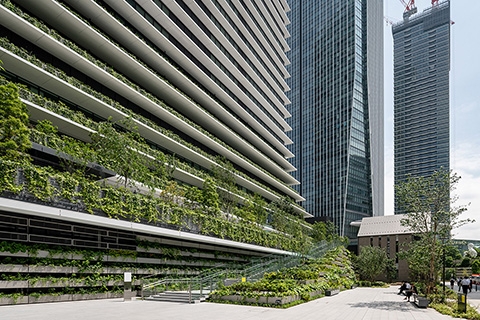 Saiou Park
Nishizakura Park is a green park with an area of about 1,500 square meters. It is connected to the pedestrian deck and is maintained to form a green network that connects to the adjacent Atagoyama greenery and green paths. In spring, you can enjoy various cherry blossoms such as Kanzan, Yoshino cherry tree, Kanhi cherry tree.
---
Green connecting areas
The green network that has formed north and south of "Toranomon Hills" so far will be connected to the east and west directions by crossing Sakurada Street with the birth of "Station Tower". The "station tower" will be a key point in the formation of a wide-area green network, such as connecting with the existing green connections extending from the Shiroyama and Sengokuyama plateaus.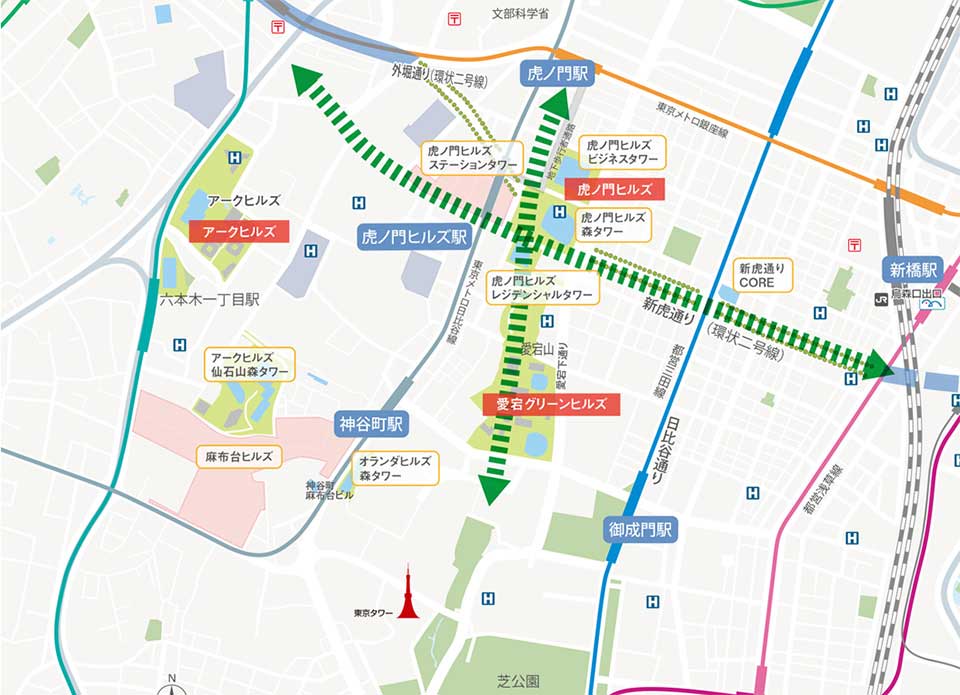 Green network diagram
Functions as a local disaster prevention base
As part of measures to address stranded commuters, we have secured temporary accommodation spaces for approximately 3,600 people and approximately 1,000 people at the Mori Tower and Business Tower, respectively. In addition, at the "Station Tower", we plan to develop a temporary residence space for about 950 people and a temporary residence space for about 900 people (including Block B). All together, it is possible to secure accommodation space for about 7,000 people. In addition, we have secured stockpile warehouses, emergency wells, and power for disasters in preparation for three days of acceptance. We play role of local disaster prevention base.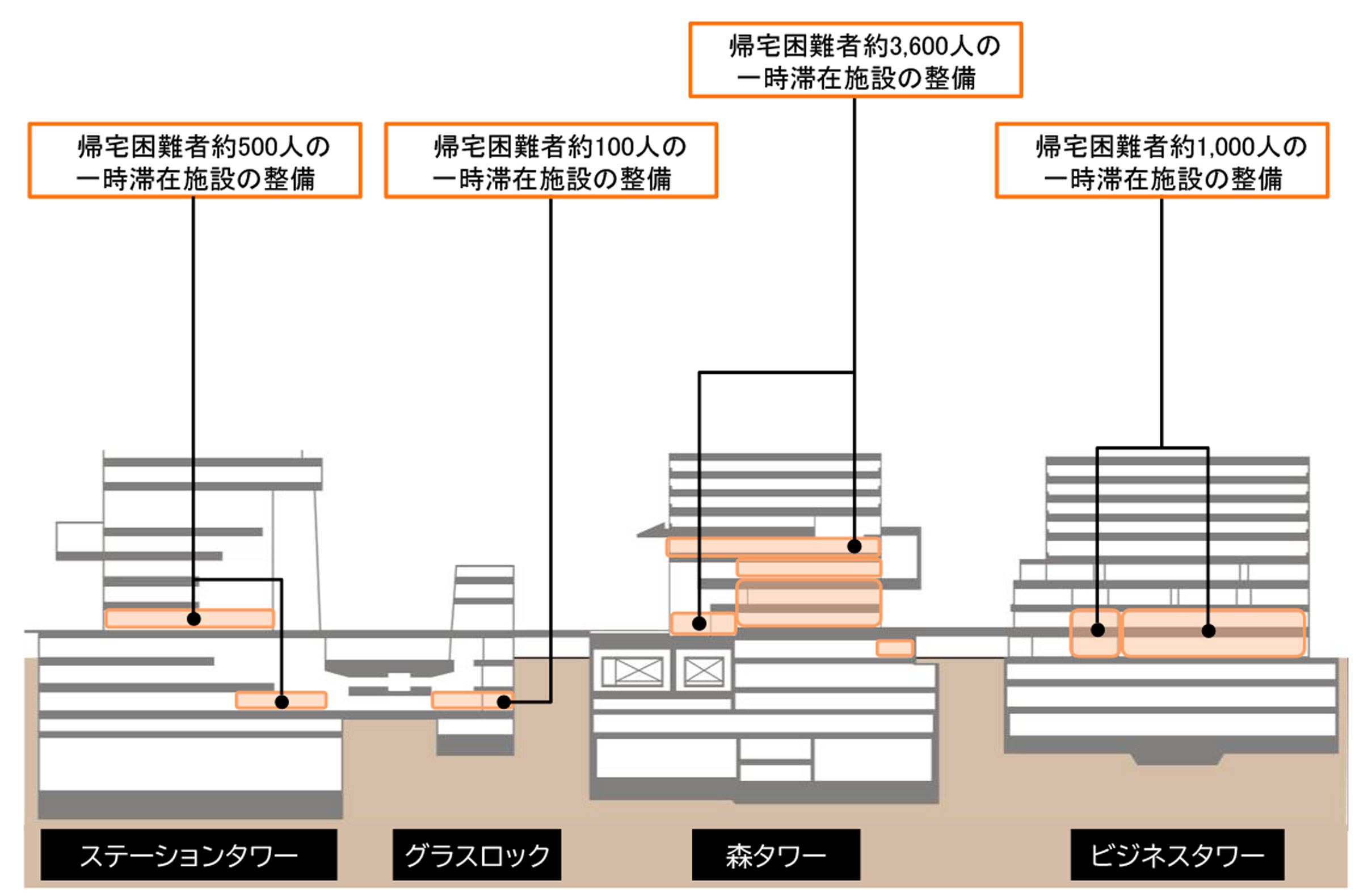 Reducing the environmental impact of the city as a whole
At "Toranomon Hills", we have established a high-efficiency energy center "Toranomon Energy Network" that supplies energy to the entire city, and we are supplying energy across the area. The first plant will be opened in the basement of the "Business Tower" in 2020, and the second plant will be opened in the basement of the "Station Tower" in 2023. A compact city that highly combines various urban functions, adopting various systems with high energy efficiency, networking the energy supply network and using it throughout the city to realize a city with excellent eco-efficiency. To do.
Furthermore, we will strengthen regional disaster prevention functions by introducing independent/distributed energy systems and supporting people who are unable to return home. In the event that the grid power supply is interrupted during a disaster, etc., the cogeneration system (CGS) and emergency power generator will be used to secure the necessary power in the event of a disaster. In the entire Toranomon 1/2-chome area, we are promoting the creation of a regional disaster prevention base from both hard and soft aspects by developing a temporary accommodation facility for about 950 people who are unable to return home and a disaster prevention stockpile warehouse in preparation for accepting them for 3 days. increase.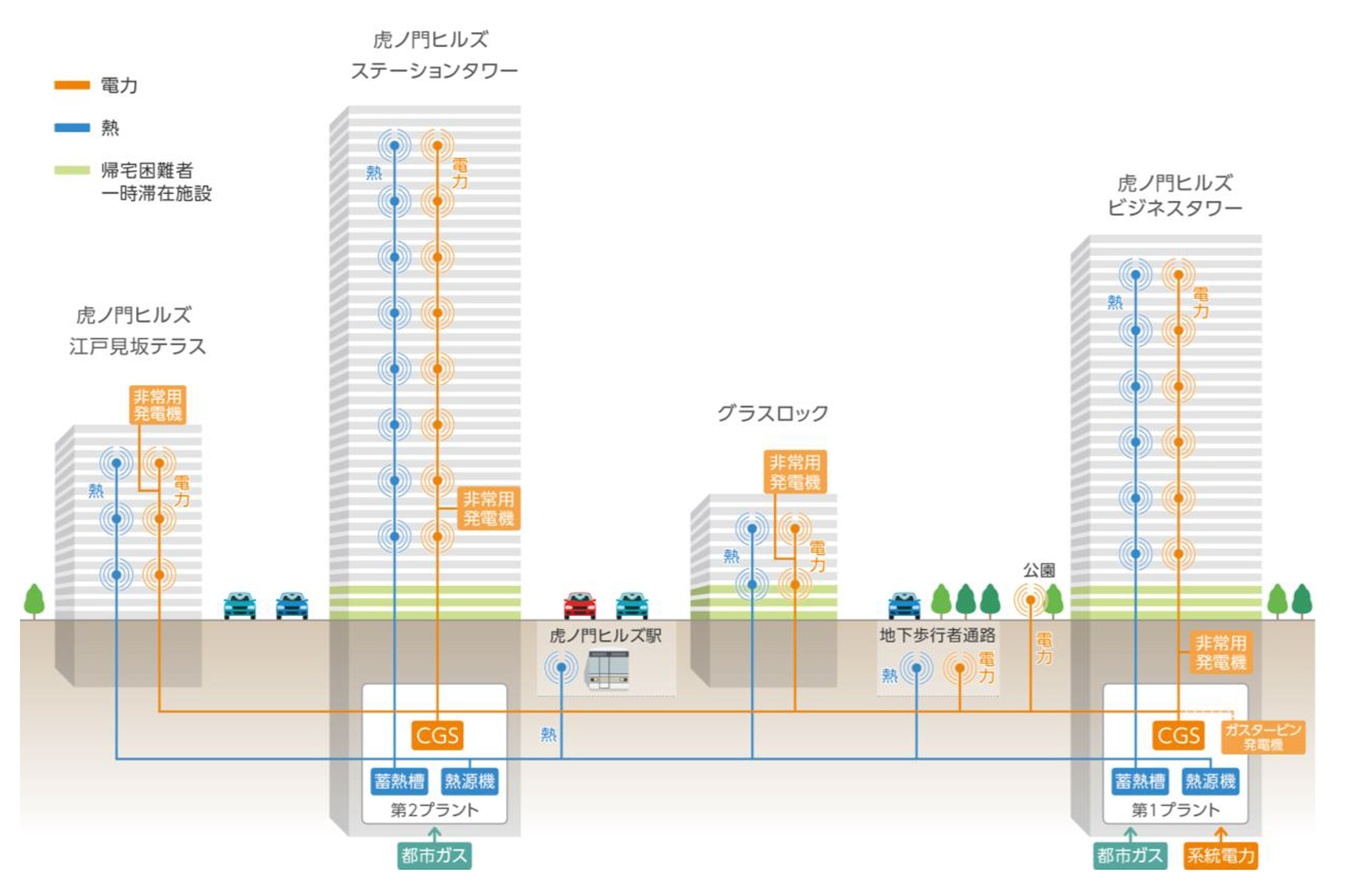 ---
Promote roadside development of "Shintora-Shintora-dori Avenue"
It is a new symbol street of Tokyo developed together with "Toranomon Hills Mori Tower". As part of our area management activities, we carry out various mechanisms and events that are suitable for being a base for disseminating culture and information in Japan and overseas. Around Shintora-dori Avenue, "SHINTORA-DORI CORE" was born as the first project that realized the integration and reorganization of the block. In addition to offices with a total rental area of approximately 10,000 m², the 3rd floor has an incubation office of approximately 600 m², a casual and convenient restaurant, and an event space function on the first floor section facing Shintora-dori Avenue We also opened a cafe "THE CORE KITCHEN/SPACE". As a new community place where diverse people gather, interact and generate ideas, and as a base for area management activities, we will create a lively Shintora-dori Avenue area from here and lead the roadside development, and Toranomon Hills area contribute to the evolution and development of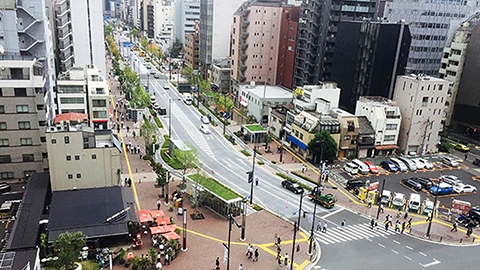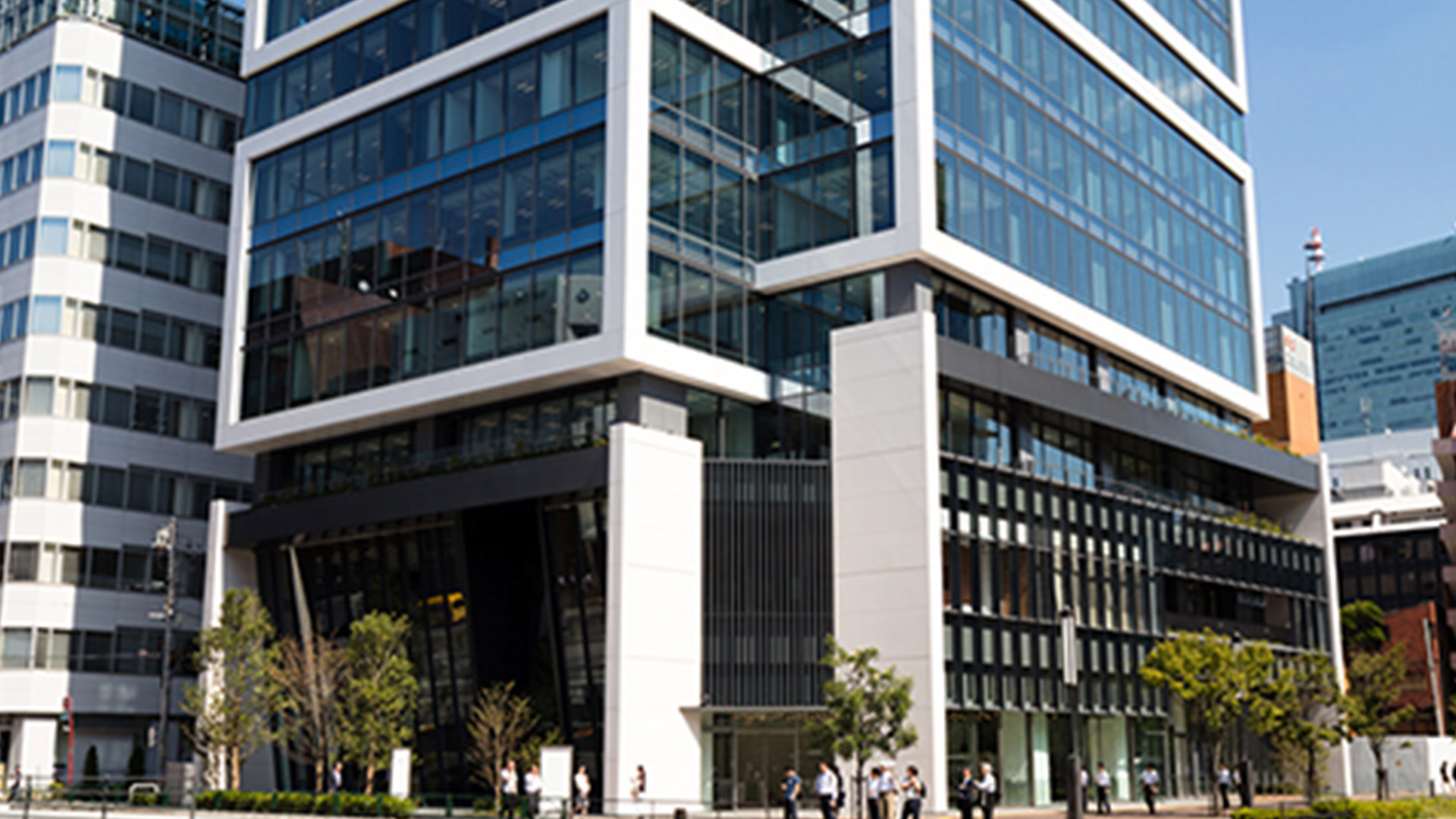 ---
Public art
In "Toranomon Hills", in order to play a role as the origin of culture, we have installed works throughout the world where artists representing today think about the future that Tokyo and Toranomon Hills should have. ..
You can feel more familiar with it than you can with a museum-like work. I hope that this will create a new and wonderful relationship between art and people.
---
Hello, I'm Toranomon.
I'm a TORANOMON.
Hello everyone. I have been riding a time machine since Tokyo in the 22nd century.
It is a cat business robot, TORANOMON. What did you come for?
That is to create "Mirai Tokyo" with everyone. Many ideas for innovating the world are shaped here.
Now, "Mirai Tokyo" starts from Toranomon Hills. 22nd century Tokyo is...
Toranomon Hills Business Tower 2F Wagon Shop
TORANOMON character goods are on sale.
Contact: TEL
03-5771-9711
© Fujiko Pro
© Mori Building